So, since we just moved into our new place on Thursday, I am getting some pictures and decor put up and around, and I had these old wreaths, that I had made with just red-beaded garland a few years ago. So I decided to spruce them up a bit and this is what I came up with. This first one is placed on the wall of our entry way, next to my dad's child-hood mirror! I was going to center it on the wall and then hang the wreath over the middle of the mirror, but due to the size of the mirror and the placement of the light switch, that wouldn't work, so I placed them side by side and it was awesome. Oh, and one more note I should add, I didn't have wreath hangers on hand, so I improvised and used curtain rod holders. I hammered them flat, until they were at the angle I desired and they worked out great!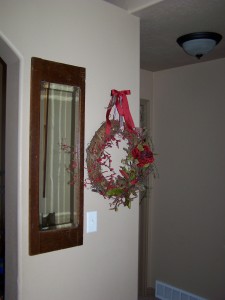 So this is the wreath up close!!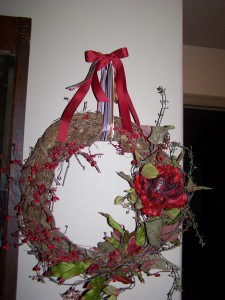 Next, I wanted to add something to our front door, so I took the second of the two wreaths that I previously had, and added some zebra ribbon, and a giant zebra flower I made.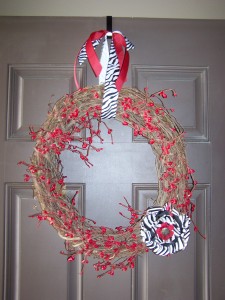 I don't remember doing a blog post on how to make this flower, so I will post on that soon.
But just so you can have a close up of flower in all it's glory, here it is…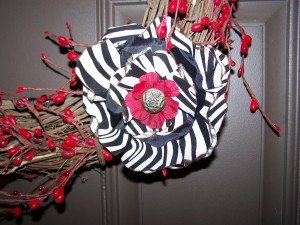 Who said that old wreath's couldn't be made beautiful again???
Not I!!