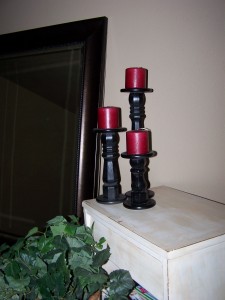 Cute Candlesticks huh?!!  Well I had a great idea one day (sometimes my brain works in a creative way..haha) and I decided to make my own adorable candlesticks instead of purchasing them.
Candles have been used for centuries as home fragrances all over the world. Of course before electricity they were necessary to light homes in the evenings and on cold winters nights! However in recent times the popularity of using candles to decorate ones home has hugely increased, and now they are a staple household item used for a range of practical purposes, and more often, simply for pleasure.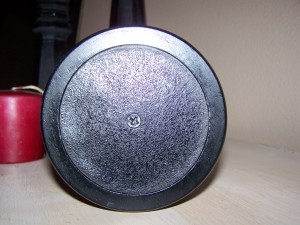 Does this Candlestick End look familiar to you at all?  Well, some people use these and some people don't.  This is a COASTER for your beverages.  The store was having a sale for 6 coasters at $1.99.  Which is exactly what I needed.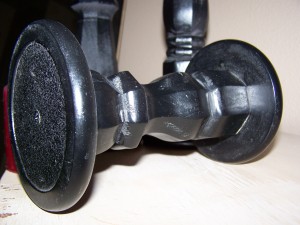 Here is a side view.
Each candlestick would use a coaster at the top (to hold the candle) and one at the base(to give added stability!)
I got the middle stick portion from a hard ware store.  They are table legs.  Each one was a few dollars.
I screwed each coaster, directly into the leg, through the center (note the top of the screw in the coaster).  You won't see the screw when finished because there are soy candles sitting on top of it!  I painted them all black (with spray-paint.)
AND THIS IS WHAT I GOT>>>>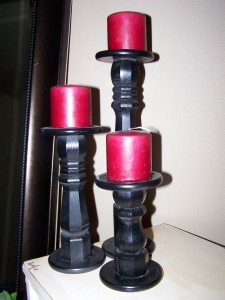 Great huh!!  K…send me pics of the ones you make!!