Well, we have a basket of 20+ barbies and my girlies love to change their outfits.
However, we don't always re-dress the barbies after we strip them of their outfits.
We take a dress, put it on another,
and….well we leave her naked (without clothing)
until next time we decide to re-dress her.
NOW here is the problem…
There are many moms who don't appreciate the naked barbie body.
In fact, I have friends who will not let their kids play with OUR barbies,
just because they may end up naked.
WELL, I HAD a GOOD IDEA and DEVISED A PLAN TO MAKE HER MODEST!!!
(Because I believe all kids should have the opportunity to pretend
and play with dolls or whatever…even if they end up undressed.)
It would be nice if all barbies came with something like this,
a permanent body suit under their dresses.
It's a painted Ballerina body suit.  HOWEVER, they don't.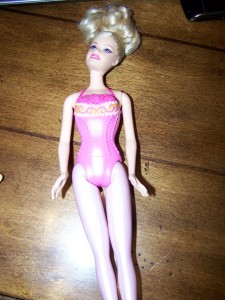 So, here is my solution….
Our Naked Barbie…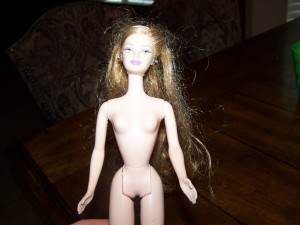 …and with a little permanent marker,
she is now wearing a permanent body suit,
making her a little more modest, for those times
when her clothes may come off.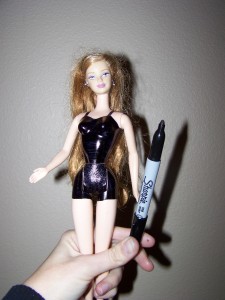 The cool part is, you can design Barbie's bodysuit any way you'd like.
I chose to do shorty-shorts with spaghetti straps
because we have a lot of dresses that are designed that way.
Maybe you'd rather do a cap-sleeve instead of the straps.
Or if you don't have a problem…
then leave her naked, it really is up to you !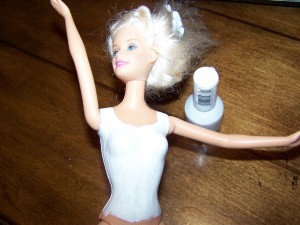 If you don't have a permanent marker laying around,
maybe you have some nail-polish.
My only suggestion with nail-polish,
is to make sure it isn't a really thick nail-polish,
or it will take forever, and be really clumpy.
(I had to learn this one the tough way!)
Using a newer, runnier nail-polish is better.
Also, remember to let her dry a little before sending her off to play!!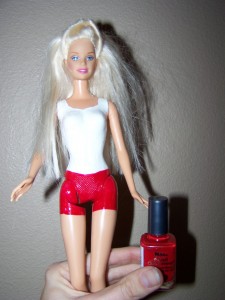 My girls picked out two different colors for this barbie.
We did a white top and red shorts, and we think she looks great!!!
The point is, when her dress comes off, she won't be completely naked
and then my daughters friends will be able to play too!
(Remember, because their mom's wouldn't let them play with naked barbies…
that's why we were looking for a solution in the first place.)
Great solution huh!!
ps….I'm Part of Tip Junkie, and Handmade Tuesday, and Funky Polka Dot Giraffe, and So You Think Your Crafty!