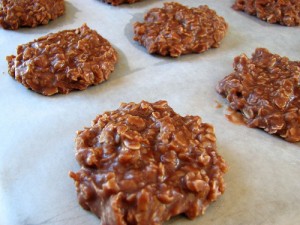 I L.O.V.E. cookies, and I just wanted to let you know about the quickest, most delicious cookie around.  I call these No-bake cookies, but others refer to them as "Stove Top Cookies."  Either name, it's a good idea to make some up, eat them (hehe) and deliver them to friends and neighbors!!
So here is my recipe:
*1 stick of butter
*1/2 Cup Milk
*2 Cups White Sugar
*3 Tbsp. Cocoa
— ————————–
*1 tsp. Vanilla
*1/2 Cup Peanut Butter (I prefer Chunky)
*3 Cups Quick Oats (oatmeal)
Now Here is How You Cook Them:
*In large sauce-pan, add all the ingredients above the line, and bring to a rolling boil. Let them boil for a FULL minute.
*When your minute of boiling is finished, remove pan from heat, and add 3 remaining ingredients below the line.
*Mix Vigorously until there are no longer any visible peanut butter chunks!!!
*Drop Spoonfuls of the mixture onto heavy wax paper or foil…let sit a few minutes and they are ready to eat!!
p.s…..if they don't set up, try boiling for a little bit longer next time, but you can still enjoy your flopped cookies on a spoon….get your LICKER out!!!