This is my friend Amber and she is an amazing wife, an intelligent scholar, a creative goddess, and a magnificent chef. (In fact, I have NEVER tasted anything from her kitchen that wasn't absolutely mouthwatering!!)   And, I want to add, she is a mother of 4, who really focuses on making  family friendly meals that everyone enjoys,  packed full of nutrition.  Here at Good Ideas and Tips, we are getting the sweet privilege of hearing from Amber a few times a month, as she shares her delicious recipes with us….how fabulous huh!!    Today, she is sharing with us, her traditional BBQ Feast.
Here are the recipes and pictures from her latest cooking adventure….enjoy!!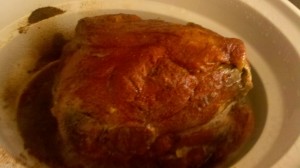 So, we made a traditional bbq dinner tonight… first we made pulled pork, and the secret to a good pulled pork is "time and a good rub!!"
Pulled Pork Rub
consists of:
1/2 c brown sugar
1/4 c paprika
2 T garlic Powder
2T onion Powder
2T season salt
1 t ground pepper
1/2 t. red pepper flake (optional)
This makes enough rub for at least two pork shoulders.  I usually use about a five pound pork shoulder.  Place in a crock-pot, making sure that the fat cap is on top, then rub liberally with the spice rub.  I put a little water in the bottom of the crock-pot, about an inch worth, and a little Worcestershire sauce on top, if I have some.  This will cook in the crock-pot for 6-8 hours.  You'll know when it's done, the roast easily pulls apart with a fork.  For this dinner we shredded it up and put bbq sauce on it and used it for pulled pork sandwiches, but it is also great for burritos, roast and potatoes, etc.  The nice thing is, you have about 5 minutes of prep and the crock pot does all the work for you, and then your house smells amazing!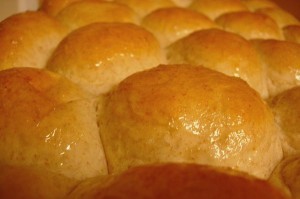 The rolls we used for the pulled pork sandwiches are my favorite recipe- 1 hour rolls
One hour dinner rolls:
2 packages yeast
1t salt
1/4 c warm water
3T sugar
4T butter
1 1/4 c milk
3 c flour (more if needed)
*Dissolve yeast in the warm water.  Heat milk, but do not boil!  Add butter (I put it in cold so it cools milk down), salt and sugar.  Let mixture cool a minute and then add it to yeast mixture.  Add flour, and dough will be sticky. You may add more flour for a stiffer dough if desired.  Knead for a few minutes and then place in a greased bowl and cover.  Let it raise for 15 minutes.  Shape into rolls.  Place in a greased pan, cookie sheet or muffin pans.  Let raise for fifteen more minutes.  Bake for 10 minutes at 400 degrees. (I put all my rolls touching each other in a 9×13 pan and then bake for 20 minutes.
1 package of store bought coleslaw mix (you don't need the kind with the sauce in it)
1/2-1 cup of mayo or miracle whip (depending on how thick or thin you want the coleslaw)
1 T vinegar (apple cider is best)
2 T dill pickle juice
1/2 t garlic powder
1/2 t onion powder
1-2 T sugar to taste
Season salt to taste
pepper to taste
Mix the last 8 ingredients in a bowl, taste to see how you like it (if you need to add more salt or sugar, etc) then add to coleslaw mix.  Place in refrigerator for a couple of hours before serving so the flavors can marry.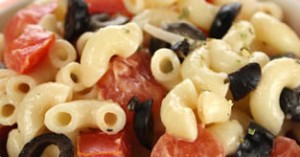 We also made a macaroni salad that night, and the kids loved it!  Here is the recipe:
boil two cups of elbow macaroni
add:
4 hard boiled eggs
1 can sliced olives
1/2 – 1 Cup chopped celery (depends on how much you like)
1 cup chopped sweet pickles
sauce:
1/2-3/4 c mayo or miracle whip
1-2 T mustard (to taste)
season salt and pepper
Add the sauce to the salad.  Top with sliced boiled eggs and season salt.  Let refrigerate until serving
The best part of the whole night was the my homemade apple pie, my kids favorite (and mine too!)  Many people are intimidated with pies, but with the store bought crusts you can get now, they are so much easier to prepare!!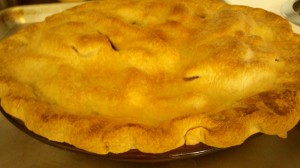 All American Apple Pie
2 Store bought pie crusts (for the top and the bottom)
6 cups thinly sliced, peeled apples (I like a mixture of granny smith and a sweeter apple, whatever is on sale!)
1 cup sugar
4 T flour
1 t cinnamon
dash nutmeg
1 T butter or margarine
Place one pie crust on a nine inch pie pan, and poke holes in it with a fork.  In mixing bowl, combine sugar, flour, cinnamon, and nutmeg.  Add the mixture to the apples.  Fill the pie plate with apple mixture.  Dot with butter or margarine.  Put on top pie crust and cut a few slits in the top to let steam out.  seal and flute the edges.  (if "fluting the edges" seems intimidating, just gently press the pie crust edges together, cut off the excess, and press a fork around the edges…pretty and simple!)  Melt 1 T butter and brush on the pie crust.  Top with a sprinkle of sugar.  Cover the edges with a foil tent.  Bake at 375 for 25 minutes, remove foil, and then finish baking for another 20-25 minutes.
That was our night!!  The perfect all American "summer" fantasy.  Its always nice when food reminds you of something…it was snowing when I started all of this, and we ate dinner that night thinking about the 4th of July!!  These recipes are easy and delicious, and all of the recipes I did, took less than 2 hours start to finish!!  This is a perfect weekend treat, or just use the macaroni salad and coleslaw with a store bought chicken on a weeknight!!  All of these recipes are great with a thousand other menus, so be creative and have fun with it!
ps………..look forward to future recipes from Amber, your family will be so happy you did!!