Do you ever want to have delicious IHOP or Restaurant style crepes?
Well, if you are interested, I have the recipe and the know how to share with you, and believe me, they are so delicious!!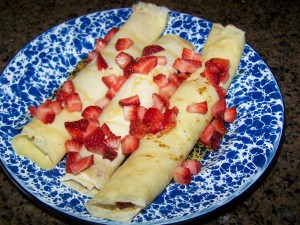 This recipe comes to us courtesy of my Betty Crocker Cookbook!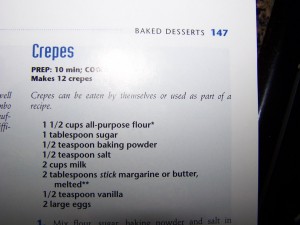 1 1/2 C. all-purpose flour
1 Tbsp. Sugar
1/2 teaspoon baking powder
1/2 teaspoon salt
2 C. milk
2 Tbsp. stick margarine or butter melted
1/2 teaspoon vanilla
2 Large Eggs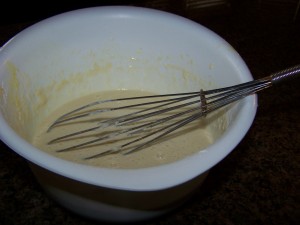 **Melt the butter, and add all other wet ingredients.
**In a separate bowl, mix together all dry ingredients.
**Then mix the dry ingredients into the wet with a mixer and beat for a minute or so.
**Lightly butter skillet.  Poor 3/4 cup mixture onto warmed skillet, pick the skillet up and rotate the skillet so that the mixture spreads thinly, like a super huge and thin pancake!
**When the crepe appears bubbly, and the edges start to lift, flip it over, and let it warm for 30 sec.
**Remove Crepe from Heat.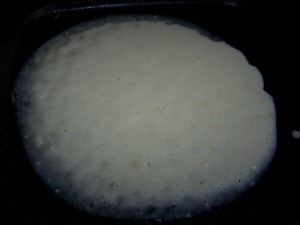 Once the Crepe is removed from the heat…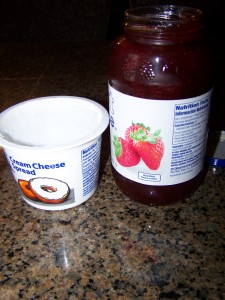 lightly spread cream cheese onto one side.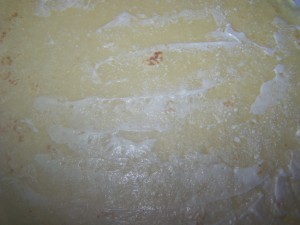 Here you can see how thin the layer of cream cheese is.
Next, we spread a thin layer of Strawberry Preserves over the cream cheese layer.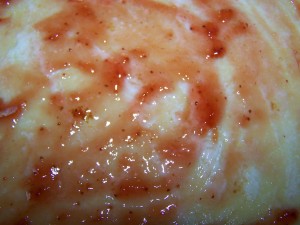 I have already prepped and chopped strawberries for the topper.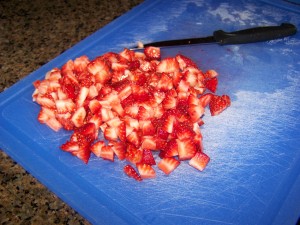 Then roll the crepe up from one side to the other.
Top it with your choice of syrup, then strawberries, cool whip, and lastly a little sprinkle of powder sugar.
These taste just like crepes from IHOP and other restaurants and are delicious and wonderful!
One side note, is that they may be too sweet for some with the added syrup, so that can be left out.
I have also made these with other types of preserves, jams, and syrups, and no matter the topping,
They always turn out so yummy that they are to die for!!
Lastly, add a tall glass of milk and enjoy!!
YUMMY!!