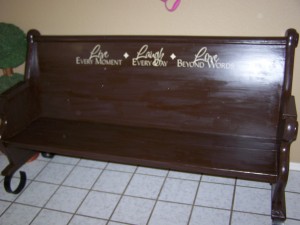 I found this bench on Craigslist for $90….it is a church pew and I just fell in love with the metal detail as legs.
It was this same color, the only thing I did was add the vinyl lettering and originally put new fabric on the pillows and cushions.  But, the people I sold it too, didn't want the cushions, so I sold them separately for $10.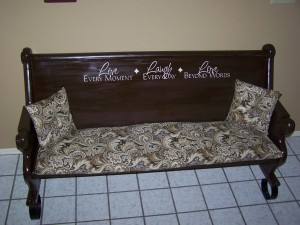 I apologize for not taking pictures of the bench in it's original form, but you can see how cute it is.
Anyways, not a lot had to be done to it, but I sold it for $250 + $10 for the cushions.
$260 -$90 original purchase price=$170 profit….
Great Flip huh!!!
The #1 thing I have learned about flipping items is find things that you absolutely love, and then they are sure to sell!!