I love pillow case dresses and they are so simple to sew!
**Here** is a great tutorial on making your very own!
This is one I made for our little Miss and she loved it.
It could have been shorter, but she liked the length of it!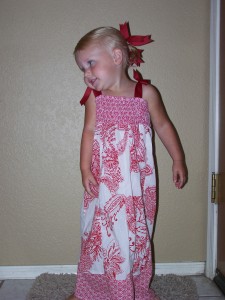 Here is another little one I sewed up!  Sew Cute and Sew Simple.
Make sure you check out the tutorial on how to make them.
And if that one doesn't give you enough info, just google
"Pillow Case Tutorial" and I am sure you will find what you are looking for!!