I am officially in love with Pinterest.
I was introduced to this awesome site a few months ago, and didn't really look at it, until recently when my friend Mindy, re-introduced it to me, and I LOVE LOVE LOVE it.
It's a bit addicting too!
Pinterest is a place to catalog the things you love.
So, there are tonz of images on the web, things we love, or wish for, secretly dream of, and even have created!
At Pinterest you can catalog and keep track of all these wonderful things.
For Instance….I love these pillows…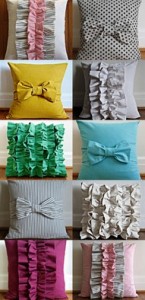 And so I click on the image and "Pin" it to my Pinboard!
Then I can keep track of it FOREVER!!!
So, if you go to Pinterest.Com and request to be invited….it takes a few days to get your invitation,
but until then, you can look at all the pinboards others have created and see how awesome they are.
Then, when you get your invite, you can get pinning, and you will be instantly addicted and in-love!
Happy Pinning!!