I found the coolest craft to do if you have a few extra zippers laying around.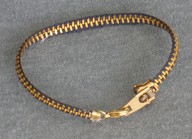 There is a complete tutorial on making these creative bracelets out of zippers.
This comes to us from **Cut Out and Keep**
I followed the tutorial, and it's really simple, and I made 4 of them this week.
My girls love them!
We made them even more special by picking out their favorite color of zipper and
and then we added a few charms to each one!