Yeah….WOO HOOO!!!  I love freebies!
And our Sponsor "Swamp People Shirts .com" has given Good Ideas and Tips .com
one of their top selling T-shirts for one of our lucky readers!!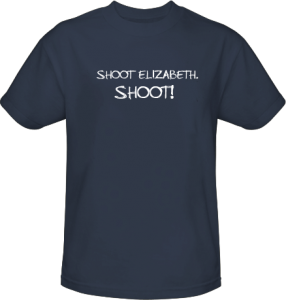 It is a dark blue, XL t-shirt, that reads "Shoot Elizabeth Shoot!"
So How Do You Enter??
It's simple… just be one of my  subscribers here at  Good Ideas and Tips.com .
Earn an extra entry for sharing on Facebook, then leave a comment letting me know.
Earn one more entry by Stumbling this post on Stumble Upon, and of course, leave me a comment to let me know!
The Winner will be randomly selected on Thursday, October 13th @ 10am AZ Time.
I will notify the winner by e-mail!!
Good Luck Guys and Gals!!

ps….just want to thank Swamp People Shirts for their generosity!
More styles, colors,  and sizes can be seen on their site.