This week most of us are thinking of a treat we can share for Halloween.
Especially, if we have little ones in school or coming to our homes.
There is always the traditional bag of candy,
but what about some really cute and unique Halloween Treats for our special kids!!
The first one is these Spooky Popcorn Hands.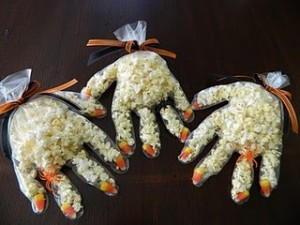 Items needed for this treat:
Plastic Food Service (non-latex) gloves, popcorn, candy for fingernails, plastic rings, and ribbon.
Next, are these adorable little owl cupcakes…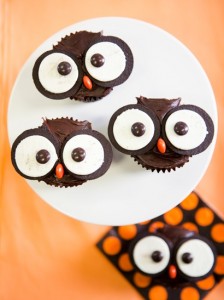 Items needed for these:
chocolate cupcakes in brown cupcake wrappers, chocolate frosting, Oreos,
and Reese's Pieces (for the center of the eyes and little beak.)
These pretzel ghost are a good mix of sweet and salty.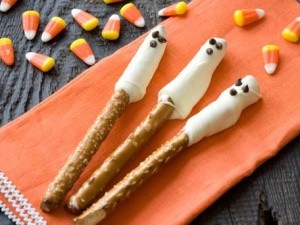 Ingredients…
7″ pretzel sticks, white chocolate chips, mini-chocolate chips (for eyes and nose)
Melt white chocolate in a microwave-safe glass measuring cup, stirring until smooth. Dip pretzel rod into chocolate, about 3 inches. Place on a waxed-paper-lined baking sheet. While the white chocolate is still wet, arrange 3 mini chocolate chips to create eyes and a mouth. Let dry until firm, about 30 minutes.
Over at Half Baked, she made these little witch hat cupcakes.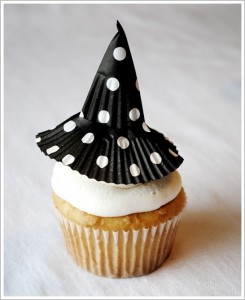 For the instructions and tutorial on these cute hats, visit Half Baked!
Scary Oreo Spiders
Items need for these yummy spiders are:
Oreos (or some other cream filled cookie), black licorice, little mini M&M's, and extra orange frosting.
More Witch Hats…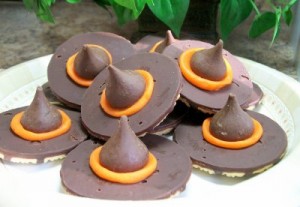 Ingredients:
Keebler Fudge stripe cookies (turned upside down),
Hershey Kisses attached with orange frosting/icing.
Spider Suckers…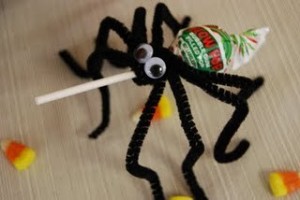 These little spiders are simply made from suckers, black pipe cleaners, and googly eyes!
Ghost Suckers…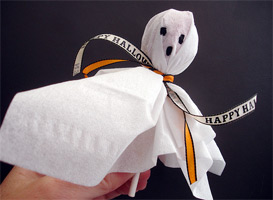 Our family loves to make these for Halloween treats…
They are fun and easy.
Ingredients for these ghost suckers:
sucker, Kleenex tissue, ribbon, and black marker(for eyes and nose).
And for those who want a healthy snack you can get what you need from https://www.royalvending.com.au/vending-machines-melbourne/, I love this idea, because it's a nice alternative to all junk our kids get during the holiday.
Ingredients:
Carrots, broccoli, and cucumbers, with a little dip.