High-End Decorating Ideas
I always welcome a good idea or clever tip, and today
one of our fabulous readers, Cynthia Cunnngham, has shared one of her great tips with all of us!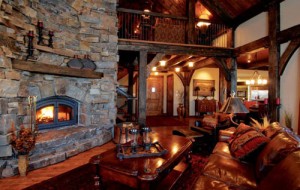 TIP**"Want to get high-end decorating ideas without subscribing to expensive magazines?
Do a web search for high-end interior designers. Most have portfolios posted on their websites.
Many of the portfolios are categorized by what type of room or style it is. Great ideas at the click of a mouse!"
So, I checked her idea out, and she was so right.  I am an absolute DIY'er as many of you are.
And a Do-it-yourselfer, like me, enjoys attempting projects, just like decorating.
Cynthia was right, and there ARE so many great design portfolios on the web that offer great tips.
I found this picture on Rocky Mountain Design's portfolio of their Mountain Villa.