I really needed this one today!!
Before Church, I put 4 chicken breast in my pot, on the stove, to boil.
My plan was to make, my father-in-laws, delicious "tortilla soup" recipe!
However, I left for church forgetting that the stove was on.
And guess what happened, you probably don't even have to.
My husband found our house full of smoke, stinky, no water in the pot, and all the chicken super burnt.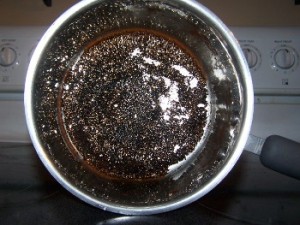 I was sooooo bummed, but glad the house didn't burn down while we were gone!
So, in the mean time I found two different ways to restore my lovely pampered chef pot back to it's original condition!
Here is the first recipe…
COMBINE….
1 cup Water
2 T. Baking Soda
1/2 cup Liquid Bleach
*Boil this mixture  in the burnt pot/pan for 5 to 10 min. or until stain disappears.
*Wash, rinse, dry, and condition with oil before using the pan again.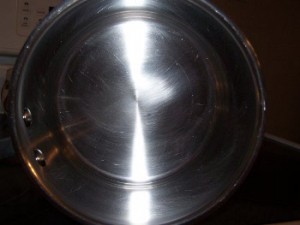 The second recipe I found was on www.cookwarebuzz.com
They used just a little bit of Iodized Salt, Water, and Baking Soda.
Click on the link to see the tutorial!!
And hopefully, in the future, I can remember to turn the stove off!!