Re-Purposing an Old Media Cabinet
One of our fabulous readers…
has sent us a great idea for re-purposing an old media cabinet.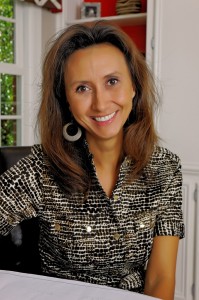 Maria over at IDS (Interior Design Solutions)
is an Interior Designer in NC and she writes a blog
about various design ideas and projects.
Here's her very easy fix to a media cabinet that is too short.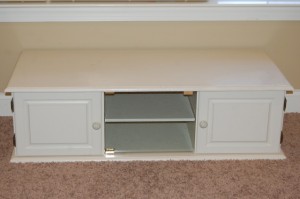 She says, "This simple looking media cabinet was donated by a local resident to benefit the teacher's lounge of Oak Ridge Elementary School.  The cabinet had a nice "body" but it needed some legs.  I wanted the cabinet to be at least 30? high so I purchased 15? legs, primed and painted them to match the cabinet and applied them to the base.  I also removed the glass door in the middle of the cabinet and replaced it with a basket.  Lastly, I changed the door knobs and there you have it…..a media cabinet with sexy legs. "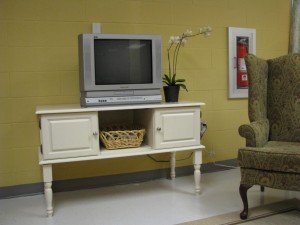 Didn't this turn out amazing!
Thank you so much Maria for sharing your creative idea with us!
For more ideas from Maria, visit her blog **HERE**