Win an iPad 2 for Making Guacamole!
This is a Sponsored post written by me on behalf of Avocados from Mexico. All opinions are 100% mine.
It's a contest by Avocados from Mexico! If you love one of three things: Guacamole, an iPad 2, or gift cards, then this is your chance to participate and win… or just participate by sharing, entering and eating your favorite party food. The prizes for the Avocados from Mexico Guac Off Recipe Contest are as follows:
1. Three Grand Prizes- iPad 2 and autographed cookbook signed by Celebrity Chef Roberto Santibañez.
2. Seven Runners Up- A $200 grocery gift card and autographed cookbook signed by Celebrity Chef Roberto Santibañez.
3. Ten winners will receive a $100 gift card, just for entering.
The Grand prizes will be given in the following three categories: Most Popular, Best Recipe and Most Creative. So go for the one you feel is your strongest ally!
The contest dates are from January 2, 2012 – January 20, 2012.
How Do You Enter?
Visit Avocados from Mexico on Facebook between Jan. 5th – Jan. 15th. You'll be able to enter your favorite iPad winning guacamole dip.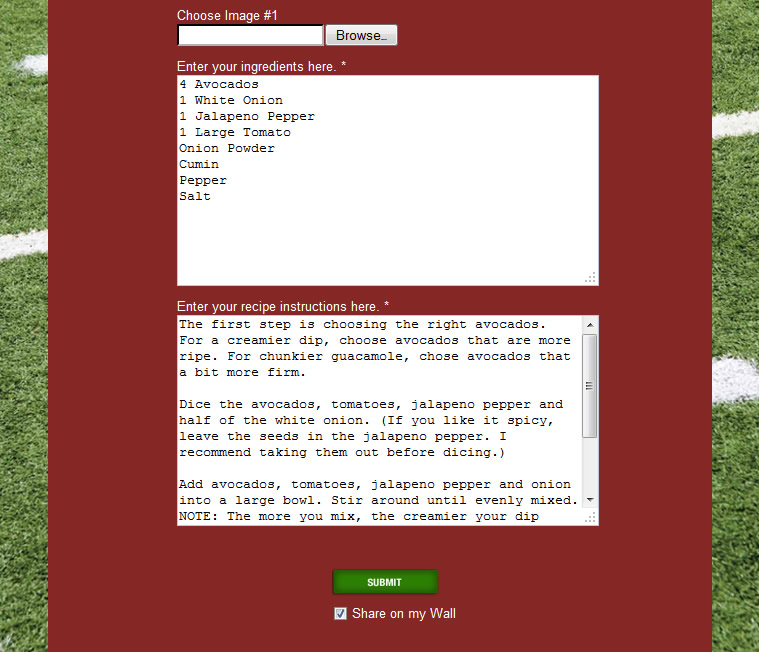 I've already entered my recipe. Here's a screen shot. It's super easy to do. I figure, it's a win win situation. Even if I don't win a prize, I can still eat my guacamole dip. I win either way!
For those of you who are curious about my recipe, here it is. It's pretty simple!
The first step is choosing the right avocados. For a creamier dip, choose avocados that are more ripe. For chunkier guacamole, chose avocados that are a bit more firm.

Dice the avocados, tomatoes, jalapeno pepper and half of the white onion. (If you like it spicy, leave the seeds in the jalapeno pepper. I recommend taking them out before dicing.)

Add avocados, tomatoes, jalapeno pepper and onion into a large bowl. Stir around until evenly mixed.

NOTE: The more you mix, the creamier your dip becomes.

Add a teaspoon of Onion powder, 1/2 teaspoon of salt, some pepper and a 1/4 teaspoon of cumin.

Mix seasoning in.

Our favorite chips to use are the Mission long tortilla chips.

Enjoy!