Kind of a funky name for a post, but it is just what it says,
"Deal Sites That I Use."
There are a ton of sites out there with great deals,
but I have a few that I am a faithful follower of,
and that really do offer incredible deals on a daily basis.
A few of these are strictly for crafting, so if that isn't your thing,
I get it!  We all have different interest…and FYI, I don't like shoveling!
First up…
GroopDealz

I love this deal site and have used it on multiple occasions.
You can order a lot from their individual crafters, or just a little.

Some of my favorite items are the personalized jewelry.
Right now they have 8 dealz happening.
I love them all, but my favorite is the
Family Rule Subway Art.
Next up…
NoMoreRack-Daily Deals
Every day at 12 PM Est. their daily deal goes live,
and can be viewed on their site or e-mailed directly to you!
They have 24/7 customer support and only $2 Shipping Per Item.


"NoMoreRack is the place to find your favorite brands & hot items
for up to 90% off. One hand-picked product in each of our
eight categories is added everyday.
The only place to truly find a real deal."
Third…
Pick Your Plum
I love these guys, because from a crafter's point of view,
some of the best crafty supplies I have found are right here on Pick Your Plum.

They post one time a day Monday-Friday at 7 am (MST).
Here is a little snip-pit describing themselves!
"It's in our blood.
Have you ever glued your fingers together trying to put a project together? Stayed up all night just to finish that last project before your kids wake up? Gussied up your home just so the neighbors could gawk over your detail? Borrowed an idea from the store knowing you can make one too?
We have. We know. Join us.
Get it before your neighbor does:
We have limited supplies on some of the most swank supplies. We have agents out in the field who find killer deals on high quality products.

We delicately slap prim-o crafting supplies on our site at a stellar price!

We sell it 'til it's gone or 'til time is up.

You leave feeling like you just won Martha in a crafting contest.

The supplies arrive in 7-8 shipping days and you've just picked your 'plum'! Doesn't it feel good?"
Fourth…
is, Shop It To Me.
This site is primarily for fashion.
Sometimes, I find the greatest prices on things I love.
You can also put in the brands you like and they will
send you e-mail alerts when something from your favorite brand is on sale.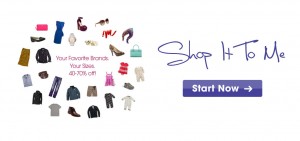 "Shop It To Me is an effortless way to
find sales on more than 700 brands.
You tell us what's important to you: specific brands,
categories of clothing & accessories, and your sizes –
and we work as your free personal shopper,
scouring the web to find the best prices on the items you love.
We check close to 200 retailers each day for sales on women's,
men's, and children's clothing, shoes, and accessories."
Up Next…
Zulily
This site is such a fun site for so many reasons.
#1 reason–because it has the cutest stuff for my kiddos.
This includes clothes, toys, and books.
#2 reason–because it has the some of the most stylish accessories
and clothes for mammas!
#3 reason–because of their Antique Charm Home Decor.
I am a sucker for the old classy looking stuff.
#4 reason–They have new deals everyday!!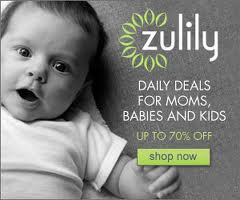 "Zulily is fabulous!
It's a new online store offering daily sales events on top-quality apparel,
gear and other goodies for moms, babies and kids.
We carry the best brands at the lowest prices.
Members enjoy savings of up to 90% off retail prices.
Zulily loves to find deals on favorite styles,
and we love introducing our members to exciting new brands, too."