Walgreens Special Discount
This is a Sponsored post written by me on behalf of Walgreens for SocialSpark. All opinions are 100% mine.
Stop the Press…
…Walgreens is offering a special discount on their annual membership
for their Prescription Savings Club at Walgreens.

This is really awesome, because for only $35 dollars a year,
a family membership will cover everyone in your immediate family,
including a spouse, dependents 22 and younger, and pets.
(um…did that just say pets?  YES…even your household, family pets are included!)
If you join, your family will receive discount prices on prescriptions.
Now, if you are only covering one person…such as yourself,
you only have to pay $20 to receive amazing discounts on your prescriptions.
So, you might be asking yourself,
"other than a discount on my RX's, what else does this annual membership include?"
Well, here are a few other benefits that are included:
**Savings on more than 8,000 brand-name medications
and all the generic medications too!
**Discounts on flu shots, pet prescriptions, nebulizers and diabetic supplies.
and…
**Bonuses when you purchase Walgreens brand products
and use their photo-finishing services.
(this is one of my favorite perks, since Walgreens is where I get my pictures printed at!)
So, if you want to save HUGE,
Prescription Savings Club at Walgreens is where it's at!!
You can even stay updated on all of their incredible deals
by liking them on Facebook
Walgreens on Facebook,
and right now they have this really fun little game
where you can play matchmaker and stick two of your
friends faces into a couple photo and post it on FB!
I used silly photos of my husband and myself!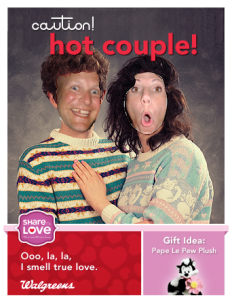 As you can see above,
I had tons of fun with it!
You can even follow them on Twitter
Walgreens on Twitter
ps…On their Twitter page, they sometimes have great tips on skin care
and staying healthy!  Check it out by clicking on the link above!!