Have you been wanting to do a little home improvement project,
or maybe spruce up the look of your home?
On the exterior of your home, landscaping is always a surefire way
to improve the overall appearance of things.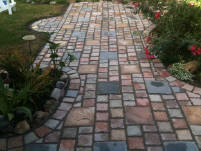 Kevin Brandon Project
AND, on the inside of your home, new tile can make a world of difference.
BUT…when I think of "home improvement,"
I think of "cost!"
Well, it doesn't have to cost you a fortune.
YOU CAN
INCREASE THE VALUE OF YOUR HOME… FOR PENNIES!
There are Easy to use Tile, Paver and Stone-Making Kits
for the Do-It-Yourself Homeowner!
THE MOLD STORE offers
"Everything you need including complete instructions, video and email support."
Check out this gorgeous home exterior done with a mold.
Isn't this amazing.  I had no idea it was even possible.

(This project was completed by Bruce Mazzoni)
SO SIMPLE TO DO!  The Mold Store offers complete
FREE step-by-step instructions on how to make and finish your own products
for about 10% of what you would pay at Lowe's, Home Depot,
Ace Hardware and other tile and stone supplier outlets.
That's huge…so instead of paying $500 for your stone, you could pay $50 to create it with a mold.
[youtube]http://www.youtube.com/watch?v=qd7sazTTd3M&feature=youtu.be[/youtube]