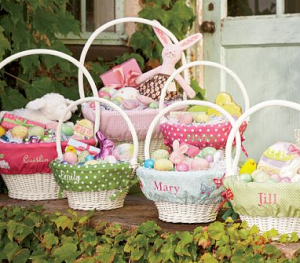 Aren't these personalized Easter Basket's cute.
They come from Pottery Barn.
Anyways, I know many of us don't want the Easter Bunny to bring too much candy,
so I like to look for alternatives to candy.
We do put in a little, but not too much.
Here is a list of items the Easter Bunny could bring.
*Every Year the Easter Bunny brings a new swimming suit for summer time.
(I know it's a little early for some, but being from AZ, it's never too early for a new swim suit!)
*Jerky
*Jump Ropes
*Slinky's (plastic kind come un-tangled easier)
*Sports Balls
*Yo-Yo's
*Bubbles
*Jacks (the metal/plastic kind with a bouncy ball)
*Paddle Ball
*A Little Stuffed Animal
*Markers/Crayons/Coloring Books
*Silly Bands (bracelets made into different shapes)
*Lace Cards
(these are the thick cards that have wholes around the edges to lace string through)
*Books/with a Bookmark
*Jewelry
*Small Toy Cars
*Zhu Zhu Pets (they are only $5 bucks at Wal-Mart right now)
*Barbie
*Spy-Kit Stuff/Flashlight
*We like to do something Religious as well
(a small picture of Jesus for their scriptures or framed for their dresser,or even a tie tack or necklace.)
*Chap-stick
*Hair Bows
*A new Tie
*DSI or Leapster Games
*Puzzles
*New DVD Movie
*Music CD
*New Princess or Super Hero underpants
*Stickers
*Fun Pencils or Gel Pens with a Journal
*Tooth Brush/Tooth Paste
*Flip-Flops
*Sun-glasses
*(for older girls…nail polish, lotions, perfume, make-up)
*(for older boys…fishing and camping stuff, a pocket knife, new cap)
*Frizbee
*Mini-Photo Album (fill it with pictures or leave it empty for them to fill)
*Little Change Purse or Wallet
*Side-Walk Chalk
*Gardening Gloves and Shovels with Flower Seeds
(((You can also get creative and make the Easter Baskets Themed, so if you wanted to do a spy kit basket, it could be filled with a compass, flashlight, walkie-talkies, hand-cuffs, a spy camera, and special watch. If you decided to do a "dress-up themed" basket, it could be filled with dress up shoes and dresses, play make-up, a magic wand and so on.
ALSO, get creative with your Easter Basket. In fact, it doesn't have to be a basket at all. It could be a little shopping cart, a dump truck, a cowboy hat, a new purse (I would love this one), a wagon, a baby doll stroller, and the list goes on!!)
One more thing we do, it's been a family tradition ever since I was little…The Easter Bunny hides the basket so we have to find it in the morning. Super Fun!! Even as a teen-ager!
(Yes my parents loved me so much that they still played Easter Bunny when I was too old…..I love you guys!!)