My Perfect Outfit for a Wintery Sunday
This is a Sponsored post written by me on behalf of No nonsense for SocialSpark. All opinions are 100% mine.
Oh my goodness, I know this site is dedicated to good ideas of all kinds,
and I am sure that includes my personal ideas on fashion.
Now if you know me at all, you know that I am NO fashion Diva,
but I absolutely love to shop and I love clothes.
I also truly admire those who can put together fabulous outfits.
I guess for me, I probably pay attention to someone's personal style
more on Sunday at Church, than any other time.
Why? Maybe because that is the day that people really take the time to look nice,
and it probably has a little bit to do with the fact that as I am listening,
I am also glancing around the room to see all the beautiful people!!
Well last year, I lived in Utah, and there was this mom that I probably checked out
weekly to see what outfit she had put together.
One of the staples she had in her wardrobe was a pair of great boots,
and another important staple was an adorable denim skirt.
She could pair these two items with almost anything and make it look great.
So…I have paired those two vital pieces together with a few other necessary items
to make my very own perfect Sunday wintery outfit!
ps….I used Polyvore.com to make this adorable collage!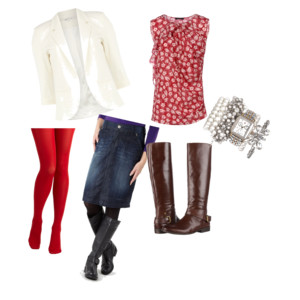 Isn't it amazing!!  I love it!
"What's your favorite piece in the set?" you ask me.
And I answer, "The red tights, of course!!"
They finish the entire look perfectly,
and at the same time compliment the red blouse.
The super fabulous part about my red No nonsense tights and leggings
is that they are completely affordable and found in so many places from
drug stores to the huge retail stores.
No Nonsense has been around for a really long time,
but they are revamping a few things, adding more products,
and partnering with a serious GURU in fashion.
Her name is Jill Martin and she was the co-author of, "I Have Nothing to Wear."
And that is exactly how I feel sometimes when I go to my closet!
So, why do I bother even telling you any of that, well…if you feel the same way I do,
then you can start following  No nonsense on Facebook or on twitter  @benononsense
and they will keep us up to date on all of their products, and Jill Martin will make sure
we know how to use them in the right way!!
So, check out Polyvore.com and definately check out No nonsense to see
more of their amazing tights.  Ps…they even sell corduroy leggings. How cool Right!