Spiced Holiday Sugar Cookie Recipe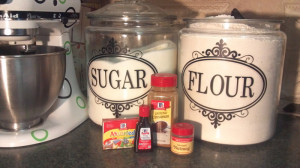 This is a sponsored post written by me on behalf of McCormick®. All opinions are 100% mine!
If there's anything in this world that I love cooking the most, you'd probably find cookies at the top of the list. But I don't think it would be top of the list because I like cooking, but more so eating. I am literally the Cookie Monster in human form. Ask anyone who knows me!
With that said, the McCormick website has some pretty amazing recipes. I mean, they should right? They're the spice kings.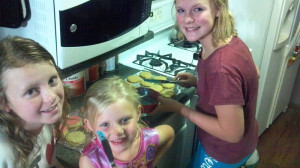 With cookie hunger raging inside (always), I choose the Spiced Holiday Sugar Cookie recipe and employed my kids to help with the frosting.
Now, as you can see in the picture, I didn't take the time to cut the cookies into neat little shapes. It probably would have looked better than just boring round cookies, but for me, anything extra in between baking and eating the cookies is a "no-go." Cookie Monster, remember?
So here's the recipe:
Makes 6 dozen or 24 (3 cookie) servings.
Spiced Holiday Sugar Cookies:
2 1/3 cups flour
1 teaspoon baking soda
1 teaspoon McCormick® Cinnamon, Ground
1/4 teaspoon McCormick® Nutmeg, Ground
1/4 teaspoon salt
1 1/4 cups granulated sugar
1 cup (2 sticks) butter, softened
1 egg
2 teaspoons McCormick® Pure Vanilla Extract
Frosting
1 cup confectioners' sugar
3 teaspoons milk
1/2 teaspoon McCormick® Pure Vanilla Extract
3 drops McCormick® Assorted Food Colors & Egg Dye
Mix flour, baking soda, cinnamon, nutmeg and salt in medium bowl. Set aside. Beat granulated sugar and butter in large bowl with electric mixer on medium speed until light and fluffy. Add egg and vanilla; mix well. Gradually beat in flour mixture on low speed until well mixed. Refrigerate dough 2 hours or overnight until firm.
Preheat oven to 375°F. Roll out dough on lightly floured surface* to 1/8-inch thickness. Cut into shapes with favorite cookie cutters. Place on greased baking sheets.
Bake 8 to 10 minutes or until lightly browned. Cool on baking sheets 1 minute. Remove to wire racks; cool completely.
I can tell you, the cookies came out perfect and soft. I'm not saying I recommend this, but I could hardly keep my kids out of the dough much less the finished product.
Great recipe!