Exterior Remodeling Ideas For Your Home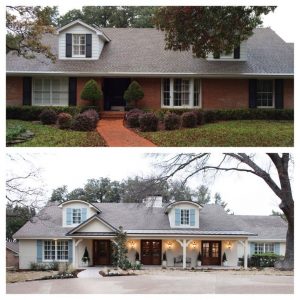 Changing up the interior of your home is one of the most common types of renovation projects you can take on. These projects can be small or large, and often add a bit of value to the property. However, many homeowners don't think about the value an exterior renovation can add to property values. Making your home look as good on the outside as it does on the inside will only help you have a home you love and treasure for years to come, and that will be worth more should you decide to sell in the future. Here are some steps you'll need to take to get your exterior renovation started.
Identify Your Project
Some of the most common renovations include changing the siding, roofing, adding a deck, building a garage or simply redoing the landscaping. Roofing services from CDSSR | ReliableConstructionGuys.com will ensure that your house is protected from any kind of roof leak.  If you're looking for a basic facelift, then changing the paint color, adding window treatments and painting your front door a different color would probably do the trick. There's always the question of, "To paint the brick or not paint the brick?" Find a painter who will give you expert advice on any topic.
However, if you're looking for a complete overhaul, you'll want to do things such as changing the look of the roof, adding a gable or two where there's a hip, extending the deck, choosing replacements for bigger windows and replacing outdated doors for more modern ones. It's also important to update your window/door security and knowing when you are choosing the best local locksmith to give you a quote estimate without ripping you off.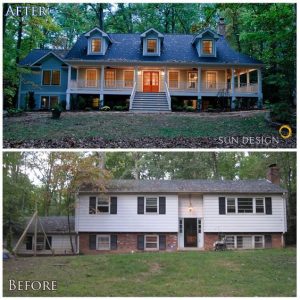 I've seen some amazing exterior remodels in my time, some of which you can't even tell it's the same house! Some people have an extremely creative mind and a lot of talent when it comes to remodeling projects.
If you've ever been to Utah, the most popular style of house is a two story box with half of the bottom story under ground. Such an outdated eye sore. As you can see in the picture, apparently those two story boxes are pretty easy to work with when it comes to exterior remodeling projects.
Do the Research
Like any other renovation project, you will want to understand as much about the process as you can. If you are building a deck, for example, you will want to have an idea of the materials, labor and costs involved in the process. You should also be aware of any building permits you may need from multiple sources, including your local government or even your homeowner's association, if you belong to one.
Now that you are informed about how the project will go, if you're not going to be doing the remodeling yourself, it's time to find the exterior contractor that's right for the job. If their reputation precedes them, you may not have to, but in my opinion, you should always ask for jobs they've completed in the past. Being stuck with a exterior contractor who goes over budget and never meets their deadlines is a big pain in the you know what.