Simple Ways to Create a Glamorous Bedroom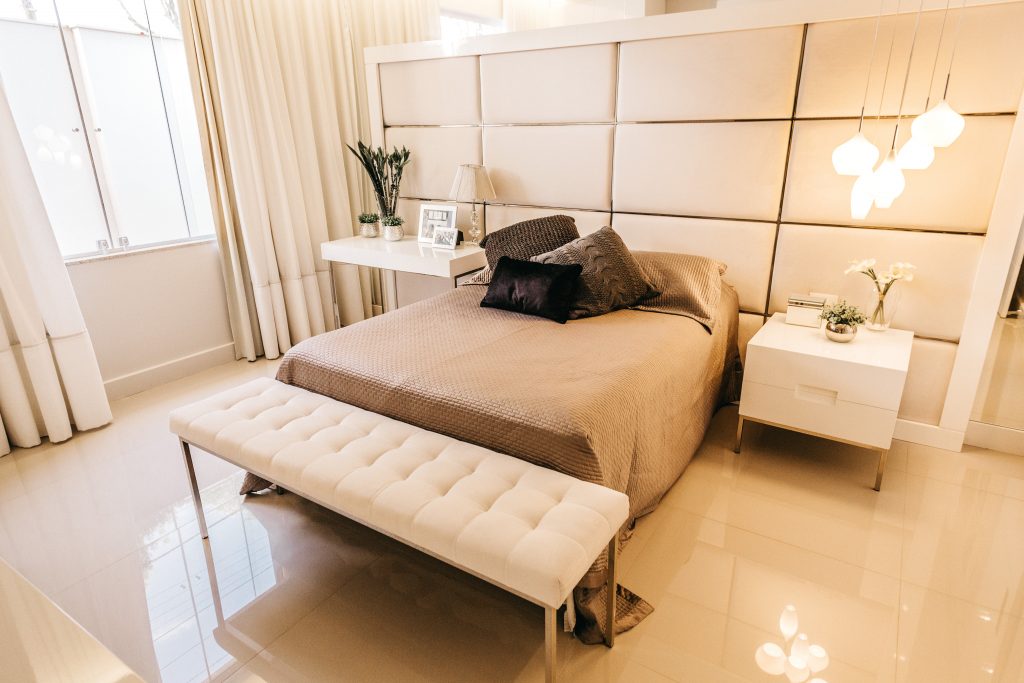 Image credit Pexels CC0 License
Have you ever stayed in a boutique hotel and then wanted to bring the décor home with you when you left? If so, why not spruce up your bedroom, and take a little inspiration from the boutique hotel vibe. You could transform your bedroom into an elegant space that you will love relaxing in and make it a perfect sanctuary to chill out in at the end of the day and on lazy weekends.
If you feel a little intimidated by the idea of embarking on such a luxurious makeover, don't worry, it is actually far simpler to achieve than you may think. It isn't always necessary to spend piles of cash, creating the bedroom of your dreams. Instead, you simply need to carefully plan your decorating scheme and shop wisely.
Create a Feature Wall
A feature wall is a must-have element in a glamorous bedroom scheme. Feature walls help to create a high-end feel and add extra texture to the room. To perfectly recreate the boutique hotel look at home, you can use 3D Wall Panels on one of the walls. Panels are a much more effective way to create a glamorous look than merely painting a feature wall or using wallpaper. 3D panels also help to create more depth to the scheme and add extra interest, making them the ideal choice for any stylish bedroom. 
Mirror, Mirror
Every bedroom needs a mirror, which means that a glamorous bedroom needs a mirror that is extra-special. A mirror that boasts an ornate frame is an ideal choice for a bedroom, and the size of the mirror that you select should be in proportion to the space that you hang it in. A small mirror will look lost on a large wall space, so finding the right size is essential.
To find the perfect mirror, you may have to shop around. Antique fairs and second-hand shops can be the ideal place to find hidden treasures, such as beautifully crafted mirrors.
Luxurious Lighting
A glamorous bedroom deserves equally glamorous lighting. To fully embrace an elegant look, you could opt for a chandelier, or if you prefer something a little more understated, then a crystal pendant light will equally complement the look you are aiming for.
Soft lighting is crucial when you are creating a space to relax, so lamps are the perfect nightstand accessory. Lamps are not only a useful way of bathing your room in soft light, but they also look attractive too.
Finishing Touches
Adding finishing touches to your re-designed bedroom from bamboodetective.com helps to bring the whole look together. For this décor scheme, luxurious bedding is a must, so opt for high-quality bed linen, topped with pillows in sumptuous textures such as velvet, satin, and silk.
Other elegant touches that will add glamor to your room include a dressing table topped with beautiful decorative items. Vintage perfume bottles, scented candles, pretty photo frames with custom framing, and jewelry boxes are the perfect choice of accessories to adorn your dressing table and complete the look.