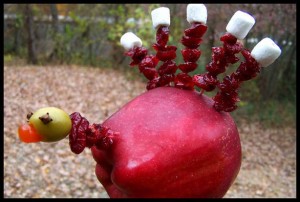 I love Thanksgiving and all the delicious food and family.  It is definitely one of those holidays where the tag, "good friends, good food, good times" completely applies.  When I was a child, my classroom did a really fun craft…where we took an apple and after sticking a few candy-filled toothpicks into it, we had an amazing, one-of-a-kind turkey!!  So I wanted to share some pictures I found of the famous Apple Turkey Craft and how to make these adorable little gobblers!!
Recipe for Apple Turkey Craft
1 Apple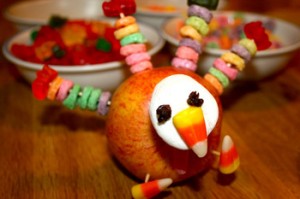 About 10 Toothpicks
Turkey accessories include;
Mini Marshmallows, Raisins, Gum Drops (our favorite), Green Olive (for head) or Giant Marshmallow, Fruit-loops or Cheerios (colored), and maybe a candy corn for the beak.
Assemble by starting with the head, then the feathers, and then the feet.  Some people leave off the feet, but we think they are cute.  So we do two feet with Gumdrops as the stoppers, so it doesn't scratch wood surfaces, and we use a third toothpick in the back as a stabilizer so our turkey won't fall over.  PS…These can be used as your Thanksgiving centerpieces or even as your holders for seat assignments.