SECRET CHOCOLATE CHIP COOKIE RECIPE
SECRET CHOCOLATE CHIP COOKIE RECIPE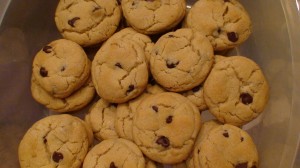 I love warm chocolate chip cookies fresh out of the oven, especially if they taste super delicious, are nice and round, and have the perfect amount of chocolate chips in them.  Unfortunately, in the past, every time I attempted to make these delicious desserts, they came out just as flat as my cookie sheet.  So I searched high and low, and went one step further by asking lot's of individuals who had brought "the perfect cookies" to different events here and there.  I now know and am passing along my idea of the secret cookie to you!!
MOST IMPORTANT—–CHECK YOUR ALTITUDE, it's in fine print on most recipe's, like it's not that important, but it truly is.  If you live anywhere from sea level to 4000 ft, the recipe for flour will do just fine.  However, If you are at 4500 ft in elevation or higher, you will be adding a little extra flour.  Add 3/4 cup of flour at 4500-5000ft.  If you are at 6500-7000 ft elevation, you are going to add 1 cup of flour more than what the recipe calls for.  I know it sounds like a lot, but we will add 1 tbsp of water to this extra cup of flour.
SECOND MOST IMPORTANT—-INSTEAD OF USING BUTTER, USE BUTTER FLAVORED CRISCO.  They actually sell butter flavored crisco sticks (like a stick of butter) at your local grocer.  Follow the substitution guide exactly.  It calls for one butter crisco stick to each cup of butter (which equals 2 sticks of butter).  So one crisco stick=2 sticks of butter.  You will add 6 tsp. of water to the crisco stick.
SECRET CHOCOLATE CHIP RECIPE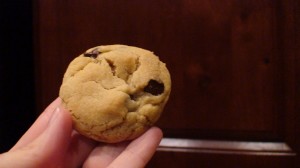 2 1/4 Cups All-Purpose Flour (I use 3 cups–depends on elevation)
1 tsp. Baking Soda
2 tsp. Baking Powder
1 tsp. Salt (just add a dash, a tsp is too much)
1 Cup of Butter =(1 butter flavored crisco stick with 6 tsp. of water)
3/4 Cup Granulated Sugar
3/4 Cup Packed Brown Sugar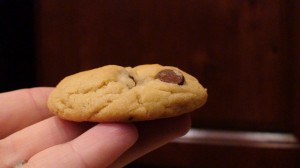 1 tsp. Vanilla Extract
2 Large Eggs
2 Cups Semi-Sweet Chocolate Chips
1 Cup Chopped Nuts (optional)
1 Cup Shredded Coconut (optional)
PREHEAT oven to 375 degrees F.
COMBINE:  butter, both sugars, vanilla extract with large mixer until creamy.  Then add eggs, one at a time, but beat well after each addition.  In a separate smaller bowl, mix together flour, salt, and baking soda. Then gradually beat in flour mixture to our butter mixture.  Stir in chocolate chips and optional additives.  Your mixture should now PULL away from the sides.  Take spoon fulls of dough and roll it in your hand, then drop them onto your cookie sheet.
BAKE: for 9.5 minutes or until LIGHT golden brown.  Immediately take off cookie sheet upon taking them out of oven.  Then let cookie sheet cool for a minute or two.  If you have an additional cookie sheet, use it.
THIS MAKES about 24 regular size cookies.  The recipes, will often say 5 dozen, but that is a baby cookie for a baby, not a real cookie.  HAVE FUN BAKING YOUR COOKIES!!!