As Thanksgiving draws near, I wanted to give you some ideas and display a few pictures (courtesy of google images) of Thanksgiving Table Settings.  I know, for some, creating the perfect setting and Thanksgiving mood is very important.  Also, sometimes we end up serving many or at other times, just a few.  For this purpose, I have included pictures of large table settings and smaller ones, as well.  So, if you are looking for a new or even different idea for your festive fall table, Check out these great ideas…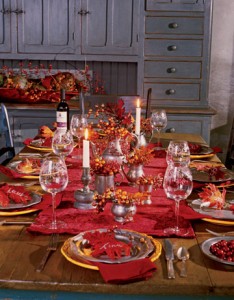 I love this setting.  I am such a huge fan of fall colors, which for me, include reds, oranges, yellows, and brown tones.  So I love that the table ware is in the fall tones, adorned with simple leaf name place cards.  The fall foliage, which is displayed here in berry swags really adds the finishing touch!!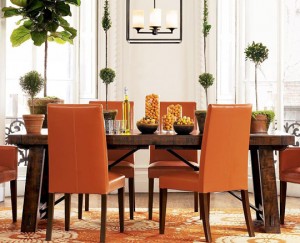 This setting has such incredible details.  The creator of this spread has used different types of nuts, displayed in various containers, ranging from glass cylinders to wooden bowls.  Also, added are these sleek topiary trees, which give the table a  pop of green to balance the muted tones.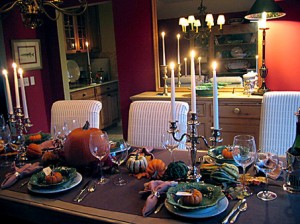 This setting is a large unit with plenty of room for a full sized pumpkin and large candle-holders/sticks.  I really favor the additional gourds, squash, and mini pumpkins which line the center of the table. Look closely at the very festive salad bowls made to appear as a giant cabbage leaves.  This is such a beautiful setting!  (one side note, lit candles can be dangerous while setting the table!!  Our hair is very flammable, so be cautious!)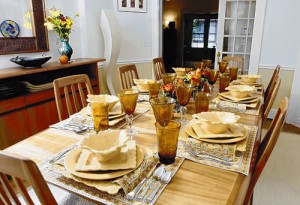 Look at how graceful this table setting is.  Again, we see the salad dish in the form of a cabbage leaf bowl, but then to use the neutral tones, just keeps the look clean and sleek.  It is very structured and organized.  Not to mention how the darker drinking glasses allow the place mats to truly pop with their classic design.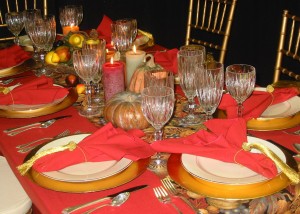 The fall colors are really very obvious in this setting, but I love that about the fall season. On this table, notice the napkins draped across the plates tied with the gold tassels, and really enjoy that feeling of class.  There is the darker table cloth, topped with a center table runner.  On top of the runner, there are glittered and crystallized fruits, such as; lemons, apples, pears, and mini pumpkins.  They have also crystallized their candles.  So pretty.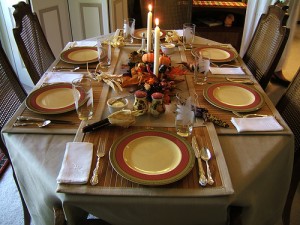 This setting is for 6 people.  Now, I come from a HUGE family and have personally never sat at a Thanksgiving table so small.  However, I know their are families and groups of friends who gather in smaller numbers and that is why I favor this table.  The centerpiece is perfect with the fall foliage and candles, but I love the added twist of the old Indian Corn, placed at the corners of the centerpiece.  This silverware is set at it's proper positions, along with napkins, plates, and glasses all ready to receive it's guests!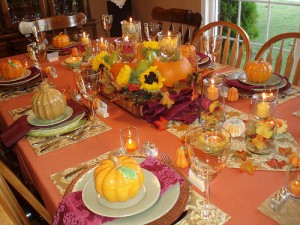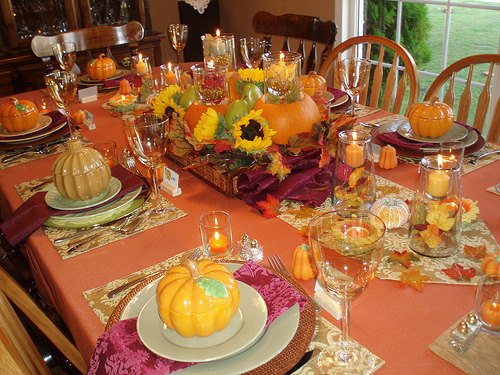 This setting has the darker table cloth with a fall table runner.  The centerpiece is beautiful with the sunflowers and pumpkins, and candles.  Each place setting has it's napkin draped under the saucer, which holds adorable ceramic pumpkins for that special surprise.  There are also name cards at each setting which always adds a great touch of care.  You know what I love most about this setting is the mismatched chairs, it brings in such a warmth, knowing we will be surrounded by those we love.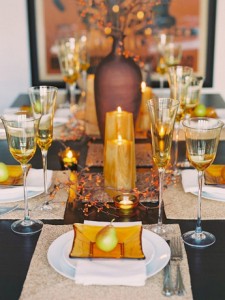 This is a very classy setting, with the darker glass tones topping the bright white plates and napkins.  Then to top the dark saucers with the pear, just really adds that extra flavor.  In an earlier post, we saw that from the pears stem, hung the place card, which could very well be done here.  The fall berries intertwined with the candles is a simple touch, when coupled with the goblets adds a true taste of elegance.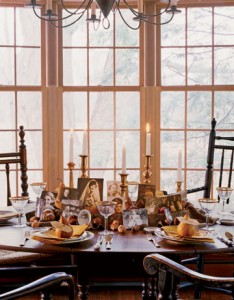 OKAY, I have been anxiously awaiting this setting, and let me explain why I have saved the best idea for last.  I have a very good friend who will be honoring their grandmother this Thanksgiving and expressing their true gratitude for her.  This is an idea I found which will work perfectly for their celebration of Thanks.  In explanation, old family photos and heirlooms have been used to create the centerpiece, then various candle sticks, and some fall vegetables were added as well.  THEN TO TOP IT OFF, I love this idea, but placed at each setting could be a pen and paper, where you and your guest may write down what they appreciate about this particular relative, additional or other relatives, or a common theme…their personal gratitude for whatever!!!  Isn't that fantastic!!  The Main point that is clear, our purpose for this holiday, which has evolved over time, is to truly show our gratitude and thankfulness for our blessings…be small or large…we ARE grateful.