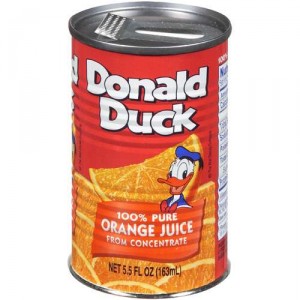 How To Make Donald Duck Orange Juice Taste Better is the Good Idea topic for today!  We recently purchased some of this juice (in a large can) remembering  it was a child-hood favorite. We quickly realized, only after taking a nice big swig, that it was seriously way too potent too drink.  My cheeks puckered so tight that I wasn't sure I would ever smile or laugh again.  IT HURT!  I don't know what it was, maybe the twitching of the eye, or the stinging tongue, but I knew right then and there that Donald Duck Orange Juice did not taste like I had remembered.  So, I devised a plan to experiment with the juice until I could make it taste a bit better.  Here are the best two solutions I came up with…
#1)Add Powdered Tang to it.  Believe it or not, this seriously improved the bitter taste still lingering in my tingling mouth!? I added just a bit of powdered tang and that gave the juice some sweetness it was lacking, along with a touch of flavor I love.
#2)I made a Smoothie with it.  This actually is my favorite option and it turned out so delicious.  Here is the recipe I devised to improve  the ever so potent juice.
1 cup milk
1 tsp vanilla extract
1 bannana
1 cup Donald Duck Juice
1 cup water
3 cups of ice
1/2 tbsp of sugar
MAKES 3 Smoothies
So this is my Good Idea for a Donald Duck Orange Juice Smoothie……..Please try this at home if you are ever the victim of a large can of Pucker!!