BUNCH OF UGLY–PART 3–THE STAR
Oh my gosh…..this was probably my best idea ever and my favorite part of the "entry-way makeover" … the BARN STAR.? So as you saw in the first post, this is what the barn star originally looked like.
I purchased this star a few years back on ebay, and there are still a ton there.? Mine is a 36″ star, left raw, so unfinished.? But you can get them at a better price here. BUY YOUR BARN STAR HERE
Now do you remember the fabric I chose to make the pillows from????? Well just in case you had forgotten, here is the pic of it again.? Basically a really neutral (in my opinion) fabric with tans, browns, black, and creams.? Perfect!? I was going to go with a brown zebra print, but I couldn't talk "my lover boy" into it.?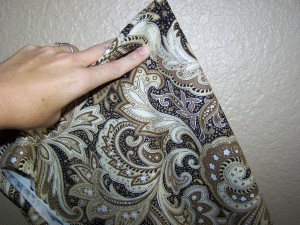 The idea came to me, to Mod Podge the extra fabric left over from the pillows, onto the star.? Now I have used Mod Podge for a lot of things and absolutely love it.? It's one of my favorite craft accessories.? I started by laying the fabric over the star and made sure there was enough to lay down in the cracks and to go from star tip to tip.?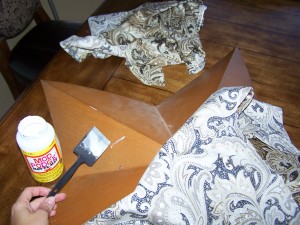 Then I poured Mod Podge onto one star ray and smoothed it out, pretty thick, with a sponge brush.? Then I pressed the fabric smooth, with my hands, onto the ray.?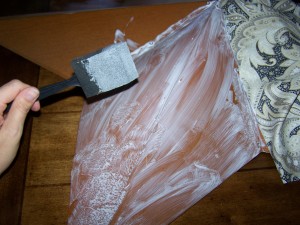 After I got the fabric all pressed down and glued on, I had excess fabric that needed to be trimmed off.? I started out with scissors, but I wasn't getting close enough to the edges, so ended up using a razor blade to shave off the extra.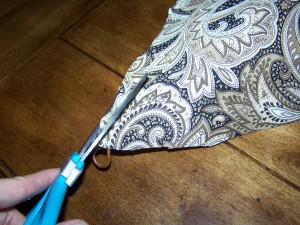 Then there was alot of strings still left around, so in order to give it a finished look, I broke out my lighter and melted the remainder of little strings.
You don't get to see the finished product yet……but, I took a sponge brush that I used to paint the bench with and it had left over stain in it.? I pressed that brush along the edges of the star to give it a dark edge….and oh boy….it looks gorgeous!!? Seriously though, this was one of my favorite projects thus far…..DO IT…you will love it…I promise!!? p.s.? I have done this with scrapbook paper and mod podged each ray with a different, but matching, paper and it turned out really well too.? I have also painted barn stars to match my decor, and that is super easy as well.? Just be creative!!
Here is a small sneak peak of the star with all it's rough edges still left on it, but it gives you a good idea of what the finished star may look like!!