BUNCH OF UGLY-PART 4-THE DOOR
I know you've been sitting on the edge of your seat, anxiously awaiting the revealing? of "my entry-way makeover" and it's not far off!!!?? This is what my door looked like before I got started…basically boring and drab.? It was in need of re-finishing because it was all dried out and rough.? You know how it looks when the original wood is exposed, when it's supposed to have paint or stain over it, but doesn't…that is exactly what I was dealing with.?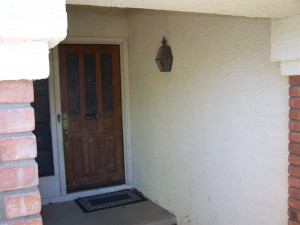 So, I gently sanded the wood, and then re-stained the front door.? I used the same paint and stain mixture from my bench to apply to the trim and base of the front door.? It really allowed the door to pop.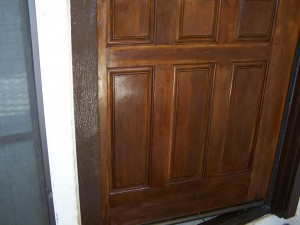 Look at er' now!!? If you look close, you will see the stain is new and the trim is different than the above picture.