NO-BAKE mini Cheesecake Bites
Here is a good idea for a quick and easy dessert with very little prep time.? "No-Bake Mini Cheesecake Bites" are so very yummy.? Especially if you like cheesecake as much as I do!!? And the even better part is….they are EASY to make and can even be made fat free!.
To enjoy many more pastry and baking recipes you are welcome to visit the Butterwick Cakes website which is now featuren a vegan cake collection.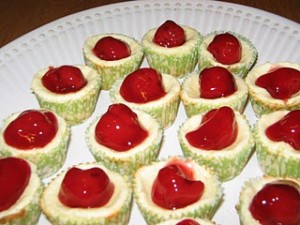 So Here is what you need:
*Mini cup-cake holders
*8 oz. pkg. Cream Cheese (fat free ok!)
*1/3 Cup Lemon Juice
*14 oz. can of Sweet and Condensed milk (fat free ok!)
*Box Vanilla Wafers
*Can Cherry Pie Filling (Any flavor you prefer)
And Here is how you Make it:
*Mix together Cream Cheese, Lemon Juice, and Condensed Milk with hand mixer for 2 minutes…until it's fluffy!
*Arrange mini cup-cake holders on platter
*Place a vanilla wafer on the bottom of each cup-cake holder
*Spoon out a small amount of Cheesecake mixture on top of each wafer
*Refrigerate for 30 minutes
*Take Out of Refrigerator and place a small spoon-full of Cherry Pie Filling on top of Mini Cheesecake Bite
*ENJOY, ENJOY, ENJOY!!!
P.S.–I did find another site with a different recipe but similar outcome!? Check it out!