Last year our two older daughters were having a pumpkin contest at school.? There were many different categories, and so we thought it would be such a good idea to join in on the festive fun.? Our first pumpkin we made a little scary…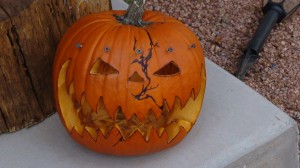 The parts on a pumpkin that get dried out and cracky looking, we filled in with black permanent marker, thus the killer line down the center of our Jack-O-Lantern's Face.? We also added 5 screws into his forehead to give him a tougher look.
This guy won for "Most Evil."
Then on the opposite end of the spectrum, we made a beautiful blue sparkly pumpkin!? Then we turned it into
Cinderella's Carriage with horse and Barbie…in a matching blue dress of course.?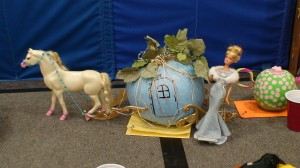 The school put the paper under it, but this amazing pumpkin won "MOST CREATIVE" and our girls were so proud!!