Re-Finished Desk and Office Corner
What Have I been Up to…well I had this office desk unit and we really didn't need the whole unit anymore and it was too big, Soooo I sold it on Craigslist and made close to $600 from it.  I thought we would be fine, but after living a week or two without a desk and a place to put our stapler and pens, I decided that we really did need one.

Back to the drawing board.  I went to Craigslist again and found a used desk for $25.  WoW…what a deal…So my profit from one desk to the next, was $575…great huh…!! 
This is what it looked like when I purchased it…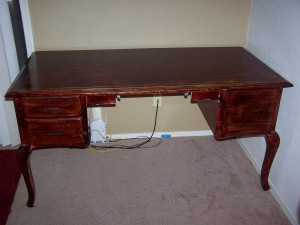 I know…not super inviting huh??  It had a terrible stain job on it and I decided to just paint the whole thing black.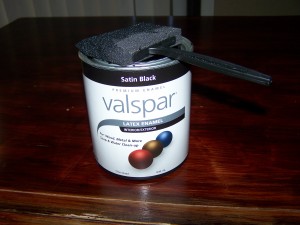 I used Satin Black Valspar paint from Home Depot.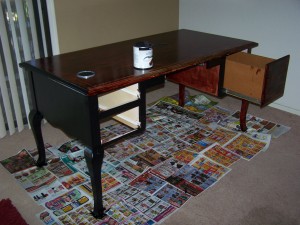 (After laying down this weeks grocery ads) I started painting it, and thought about leaving the top cherry, but like I said, the stain job was terrible and so I went ahead and painted it black too.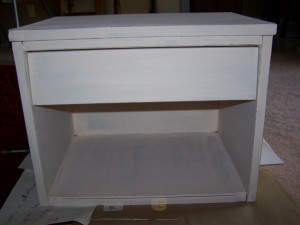 My mom had this little side table in her garage.  It had a honey colored stain on it and 4 legs on the base.  I unscrewed the legs, and painted it cream.  I considered painting it black as well, but it seemed like too much black.  I am still not sure I am completely in love with it, but for now it's cream.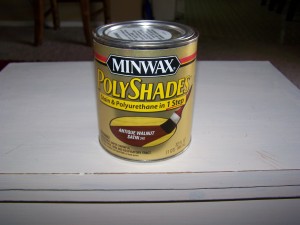 I sanded the edges after painting it cream, and then decided it still seamed too cream…
…so I rubbed some stain on it to antique it a bit.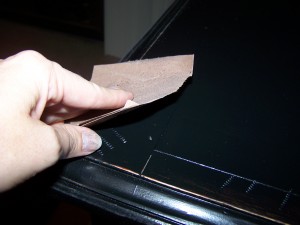 I also sanded the edges of the desk…roughed it up.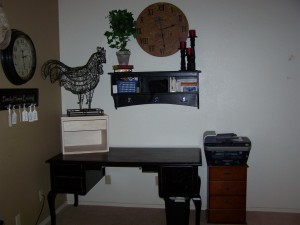 And one more at the funky angle–just for kicks…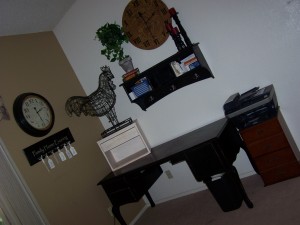 I don't know…I like the other unit, but it was so big…and this takes up a lot less space and stays neater. 
I must do something with the file cabinet, but for now…it's all good.