What did that just say???
Did that say, "Cut Your Own Hair?!"
Yep, I did it, and I've done it a few times and am here to show you how to do it yourself!
(That is if you are brave, or maybe CRAZY like me!!)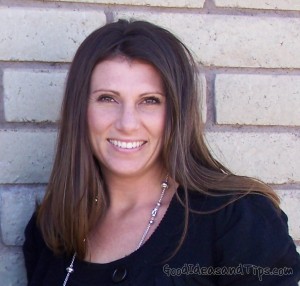 k….so this was my hair yesterday.  I, was growing it out from an a-line cut I had
(you know the one, short in the back, longer in the front.)
So now that it has grown out a bit, it looks a little silly in the back.
Also, my hair is naturally curly, and though it looks fine straight with long layers,
I believe curly hair needs a few shorter layers to give it some play.
I had a good idea to just cut it myself(probably my impatience took over)
{{PLEASE READ ENTIRE POST BEFORE TRYING AT HOME}}
On to the cut…
My friends taught me this cut in highschool, and it always works out pretty good, with little problems.
Trademark Beauty says that, first make sure you have good hair cutting scissors, and a mirror, and a floor that can be cleaned easily. In this way, you can be the best hairdressers in your own comfort house.
You flip your hair forward (like mid-head-banger) and cut a straight line.
Note: This cut works best with hair that is medium to longer length.
SPECIAL Note: if you are scared, get it done professionally!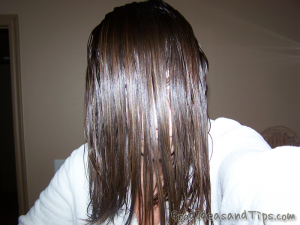 Yes, this is me with my hair basically parted down the center from the very back of my hair to my forehead.  I brushed my hair down on the sides, over my ears, and then my bangs straight over my forehead.  I use my hair from the back of my head as my guide, because I want to keep the length in back, just a few layers in front.
ps…the farther you lean over, the more intense your layers will be.
So I did a shallow lean forward this time, and then I CUT a straight line from left side of my head, in a semi-circle(which is basically just following the hair all the way around) over to the right side of my head.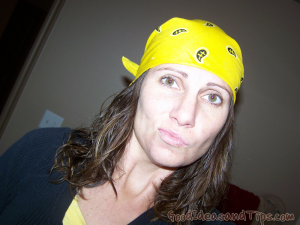 (um, forgive the non-makeup look)
Just in case the cut doesn't turn out, make sure you have a matching bandanna to wear to your hair stylist!!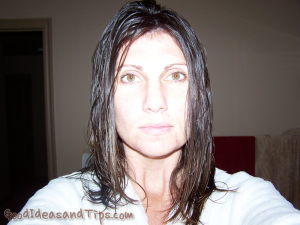 Wowsers, somebody is serious!
k, again, no make-up in this pic, but the hair cut is finished and so you see it wet.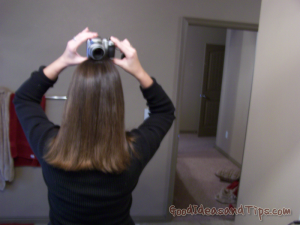 So, taking a picture of the back of my hair from the back, was really hard.  Thus, the camera on my head!
I blew dry my hair and you can see the line is straight on the back, but the front has the layers.
Just a quick side note: there have been times when I have a small V from the cut, this comes when I turn way over and get the intense layers.  When this happens, I just have my husband round off the bottom.
His mom was a beautician, so he semi-knows what he is doing!!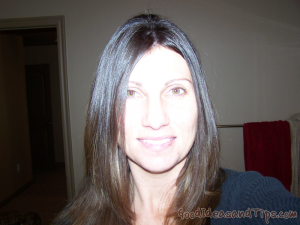 k…here is my hair all dried, but I did not style it.  But you can see the layers in the front.  So if you compare this pic to the very first one, you will see that my really long bangs are now at my neck-line.
The cut took off 5-6 inches in the very front, and 1/4″ in the back for a fresh trim.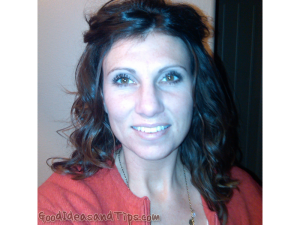 This is my cut done curly, and taken with my cell phone (that is why I am blue.)
So there you have it.  If you really want a new hair cut, but can't get to the stylist, you could brave this cut.