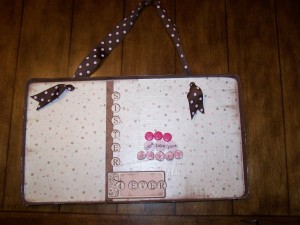 This is a super easy magnet board. 
It is a good idea that was introduced to me a few years ago,
but it is so simple and fun that I had to share. 
Not to mention how much my girls love using it to put their reminders on.
Believe it or not, this was made out of an old cookie sheet, or flat tin. 
This is what it looked like before…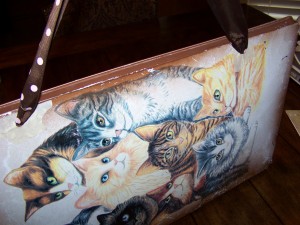 My friend found this at a thrift store. 
I spray painted the edges brown and drilled two holes about 3 inches from each side.
This is what I threaded the ribbon through.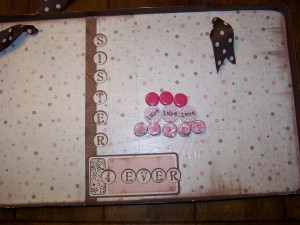 Then I Mod Podged (which is a glue/sealer in one) scrap-paper on the inside of the cookie sheet, and used some cute stickers from my scrap-packet to make it a bit cuter.  I didn't take pictures of this process, but it basically works like this…put a layer of Mod Podge on the cookie sheet, lay the scrap paper on top of it.  Gently, work the air bubbles out, and then I put the stickers on that I wanted, and put another layer of Mod Podge over the top of the stickers and scrap-paper which actually sealed the project. 
When it was all dried,
I then hot-glued a few buttons and flowers onto round magnets,
to use with my new cute Magnet board.
Super Simple and Cute…I can't go wrong with that!!