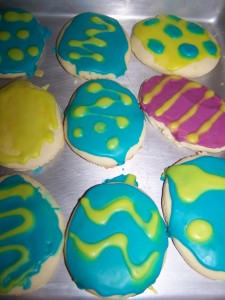 As a young girl, I can remember my mom making sugar cookies for all the special occasions and for this Easter Season as she always does for the Christmas cookie delivery season, we used my mom's recipe and made these fun eggs to take to all our neighbors. If you are creative enough, you can make artistic logo cookies which are perfect as corporate giveaways or personal  gifts.
My Mom's Sugar Cookies
2 c. butter
4 c. sugar
4 eggs
1 c. milk
2 tsp. vanilla
9 c. flour
8 tsp. baking powder
2 tsp. salt
*this is a triple batch and makes a lot!!
*Mix all wet ingredients first.
*in a separate bowl, mix the dry ingredients together, and then add them to the wet ingredients.
*Break the dough into 3 even portions, cover in plastic wrap, and refrigerate for 30 minutes.
*Spread flour out on counter surface, roll out dough, use your cookie cutters and make some fun shapes.
*Place on greased cookie sheet, bake for 7-8 min. at 375* degrees
Sugar Cookie Frosting
1/4 bag of powder sugar
2 Tbsp. melted butter
1 tsp. vanilla
1 Tbsp. milk
*mix well and then add your favorite food coloring
*(this makes enough for 1/3 the cookie dough)…so do this 3 times to make enough for all the dough, but choose different colors!