Cheap & Creative Father's Day Gifts from Kids
There have been years when we have given my husband BBQ grills, and grill tools, and a new grill cover for Father's Day.  There have been years when he has gotten new golf clubs, or some new fancy electronic device that he has wanted, but there have also been years, when all we purchased was a little bit of duct tape, a poster board, and some candy for him.  Let me explain….Our girls are a lot like me and have the creative bug flowing through them, which means, buying something isn't near as special, as creating something!!
You can use student deals to buy online gifts for your father. Here are a few of our Father's Day Gifts that haven't cost a ton, but still meant a lot to the man receiving them!!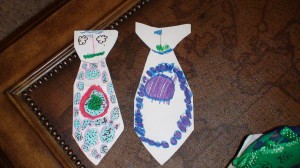 Tie Cards
These beauties were made by the girls, especially for their daddy.
Colored and cut by themselves.  The card opens on the side and there was a special message inside!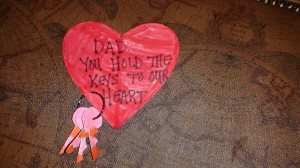 Paper Keys and a Paper Heart
"Dad, you hold the keys to our Heart!"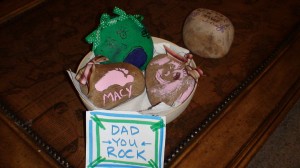 Painted Rocks
"Dad, you Rock!"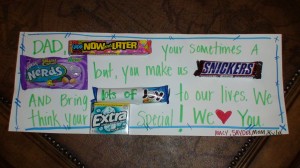 Candy Gram Card
"Dad, Now and Later you're sometimes a Nerd, but you make us Snicker and bring lots of Joy to our lives.
We think you're Extra special!  We Love You!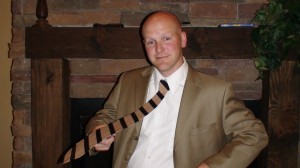 And……………da da da dah!!!!!  A duct tape tie!
Yep, we took a few pieces of card-stock and made him a duct tape tie.
The duct tape was tan to match his suit, and then we used black electrical tape over the duct tape to make the stripe pattern.  Most people that looked at him that day, didn't even notice…………..(that's just how skilled we are!  hehe)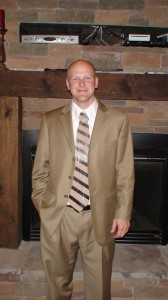 Anyways, it wasn't a big expensive gift that made this Father's Day so special, it was a bunch of handmade creations the girls worked really hard on and they knew, deep down inside, that their daddy was going to love them. The best gift to give next time would be Crystal Clear Memories laser engraved 3d crystals of all kinds.
And he did!!!!