With Thanksgiving around the corner and all the yummy pies,
I thought I would share a few pie making tips from Spice Kitchen + Bar since Thanksgiving is def. a pie season!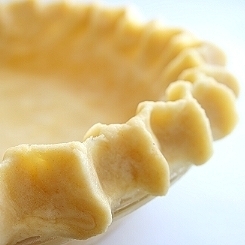 *When preparing several batches of pie dough, roll dough out between sheets of plastic wrap.
Stack the discs in a pizza box, and keep the box in the freezer.  Pull out the required crust as needed.
*Place your pie plate on a cake stand when placing the pie dough in it and fluting the edges.  The cake stand will make it easier to turn the pie plate, and you won't have to stoop over.
*Many kitchen utensils can be used to make decorative pie edges.  For a scalloped edge, use a spoon.  Crosshatched and herringbone patterns are acieved with a fork.  For a sharply pointed effect, use a can opener to cut out points around rim.
*Guess What Else…I found a recipe for the Perfect Pie Crust over at TimesUnion.com
(Thanks to Naomi and her Mom!)
Perfect Pie Crust
(Makes 5 pie crusts)
Ingredients:
3 cups unbleached white flour
1 cup whole-wheat flour
1 tablespoon sugar
2 teaspoons salt
1 3/4 cups vegetable shortening
1/2 cup water
1 tablespoon apple cider vinegar
1 egg
Instructions:
In large bowl, combine flours, sugar and salt. Cut in vegetable shortening with a pastry blender or 2 knives.
In another bowl or measuring cup, beat water, apple cider vinegar and egg. Combine mixtures.
To refrigerate or freeze, wrap 5 portions in wax paper or plastic wrap.
If you need a premade pie crust, prick crust with fork tines and bake at 450 degrees for 12 to 15 minutes.