My super dooper, sweet neighbor delivered
these cute, little, bird nest treats to our house
the other day, and I just fell in love with them.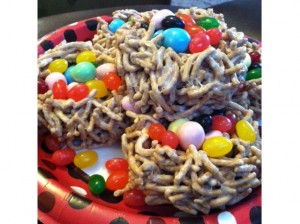 In fact, it was the first time I had ever seen them,
and I seriously thought they were adorable!
On Amazing-Kids.Org, I found an actual recipe to share
with you, just in case you were feeling domestic and wanted
to make them for your neighbors or friends!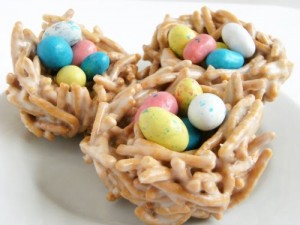 Ingredients:
4 cups chow mien noodles
3 cups miniature marshmallows
3 tablespoons butter
30 small jelly beans
Preparation:
1. Line a cookie sheet with aluminum foil. Then, grease the foil with spray-on cooking oil.
2. Pour the noodles into a large bowl.
3. Melt the butter and marshmallows on the stove over medium heat, and stir until smooth.
4. Pour the marshmallow/butter mixture over the noodles, and stir it until well coated.
5. Rub some butter on your hands. Next, take the noodle mixture and form it into six round bowls.
6. Carefully place the balls on the prepared cookie sheet, evenly spaced. With the back of a teaspoon, press the center of each ball to make a hollow indentation.
7. Let the nests set until they are hard and firm (amount of time can vary). Then fill each nest with five jelly beans.