10 Sweet Garage Ideas (with pictures)
How's your garage looking these days? Is it still serving its purpose as a safe haven for your vehicles or does it need a residential garage door repair? If so, you need to look for a professional garage door repair company to maintain the security of your vehicles and your home. 
Well, if you have a garage, here are ten sweet garage ideas that can make your garage feel like something more than just a place you store cars, totes and tools.
10 Sweet Garage Ideas
(Click the image to enlarge)
Garage Appliances
Appliances can change the feel of a garage in a heart beat, especially if you get the right ones. Most of us have the traditional garage appliances such as the box freezer and water heater…but what about an extra fridge? In my vast experience, I'm almost certain that every American garage needs a fridge, and since it's going to be in the garage, you might as well make it look like it belongs there with brilliant garage storage solutions.
Warning: If you install one of these bad boys in your garage, you may find yourself with several more friends and way less drinks. Just sayin'.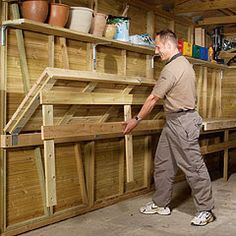 Work Bench
Everybody needs a work bench in their garage…somewhere to use your drill, paint or whack on something with a hammer. It's just a necessity, however, most traditional garages aren't big enough. You shouldn't have to choose between having a work bench or a parking space in your garage.
The solution – build a fold up work bench. With just a few heavy duty hinges, your once stationary work bench can now allow you to park in your garage.
The only downfall is that you can't leave crap all over your work bench.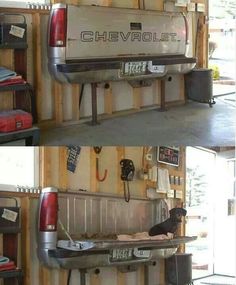 Tailgate Bench
I know you've probably seen this idea somewhere else, most likely on Pinterest, but I had to share it. It's such a creative idea and can serve as a fold down sitting area or even another folding work bench. There are certain tasks which are better accomplished on a wooden table versus a metal tailgate, but for a quick work bench solution…it could work. I personally think it serves best as a rest for your rump, because who doesn't like sitting on a tailgate while shooting the breeze?
Tool Box Sink
This cool feature would probably look best in your garage, but can also be used as a mudroom sink. It shouldn't be too difficult to convert a standing toolbox into a functional sink. Just cut a hole in the top to match the size of your sink, a hole in the back to get the plumbing out, remove the back of the drawers, attach the drawer faces to the front of the toolbox and you're good to go! The bottom drawers should still be functional for storage.
Floor Tiles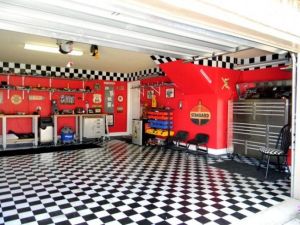 I know the typical garage is filled with oil stains and cracked concrete, but have you ever thought about adding some tiles to your garage floor? Do concrete cutting before changing you garage floor into tiles. There are some pretty awesome examples throughout the web of different tile designs for garages, but I thought I'd show you the traditional checkered floor look. For some, it may be a bit too much, but definitely makes a garage look clean and crisp. On top of tiles, getting floor decals can be the cherry on top of all the flooring decorations.
Heck, maybe we'd all take care of our vehicles a bit better with a floor like that. Don't want to get it dirty, you know?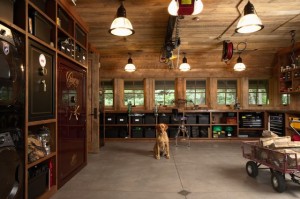 Deck Your Garage In Cedar
I don't know anybody that doesn't enjoy wood. Not that kind of wood! Get your mind out of the gutter. I'm talking real wood, like cedar, oak and pine. I've never seen one in person, but wouldn't it be amazing to have a garage trimmed out in cedar?
I'm thinking yes.
Garage Opener Cover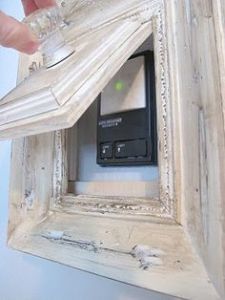 This is a popular one on Pinterest as well. Personally, I'm not too fond of this idea only because having a garage opener cover makes opening and closing the garage door more work! Instead of just whacking the button, I now have to hold up the cover door to whack the button. I'd just prefer to invest in good roller shutters, to learn more about price of roller shutters; visit:  https://globalrollershutters.com.au/.
Speaking of garage doors, Titan Garage Doors serve the entire area of Vancouver and you might be interested in learning about their services. This is the best time to finally add a powerlift hydraulic system to your garage doors to make it even more stunning!
Hide Your Garage Door
Heck, why not just hide the fact that you even have a garage door altogether? There are some pretty creative ideas out there as to how this might be accomplished, but I thought this one took the cake. Who would think that a garage would be behind a wrap around porch. Such a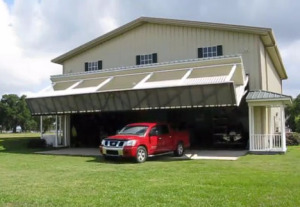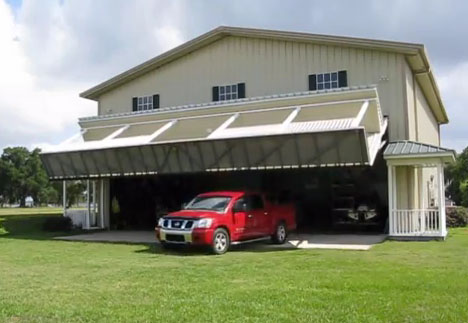 perfect use of space.
If you don't like the wrap around porch idea, here's a different twist. You know those bay windows that are always a pain in the butt to frame (for all you mediocre framers like myself)? Well, transform your garage door into a bay window with a swing away style door. If you don't know how to do it, head to the United Garage Doors, they are real experts!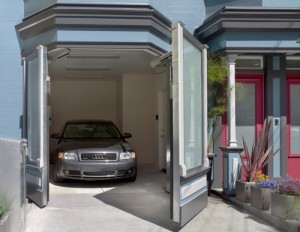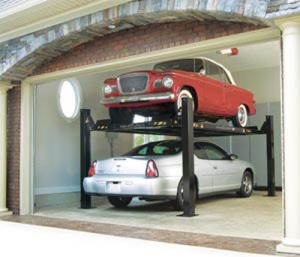 Multi-Level Parking
If your garage is getting a little too crammed, and you have the space up above, maybe a car lift can serve more than one purpose. We park cars over cars all the time when in the city. Why not just turn your garage into a multi-level parking garage?
Conserve space, display the goods and turn heads when your garage door is open! Win, win.
In conclusion, I hope you find some of these ideas inspiring and please feel free to share your creative garage ideas in the comments below!