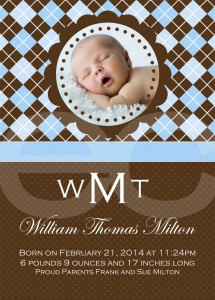 Do you remember the blog post I did on the Baby Boy and Baby Girl recipes?
Well, I just wanted to share our results with you!!
My sister has 4 girls, she did the boy recipe and just found out,
a few weeks ago, that she is now expecting a boy!  Yeah!!
We have three girls and also tried out the boy method /recipe and guess what??
Our fourth baby will be a BOY!!  We are so excited and so thrilled!!
So, the recipe for having a boy or a girl, really does WORK
Good Luck .
PS…if you like this Argle Baby Boy Announcement card, I found them ***HERE***
The following two tabs change content below.
Author: Amy Allred is the Creator of GoodIdeasandTips.com. She is an extremely eccentric person with a zeal for life. She is passionate about family, living in the moment and assisting others in being the absolute best they can be. Be sure to visit Amy on
Google+
and everywhere else.
Latest posts by Amy Allred (see all)