I have an awesome possum friend…A.B.B.Y.,
who is SO done, I repeat, SO done with the vinyl phase.
And I seriously consider her opinion every time I think about vinyl,
but truthfully, I'm just not finished with it yet.
I found this "BATH" vinyl at Janey*Mac.com and I love it.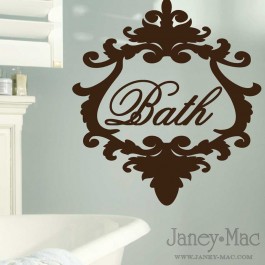 In our house, we have a giant, claw-foot tub,
and I know this would be so fabulous on the wall above it.
And since my friend is so adamantly against vinyl,
I may even just paint it myself, just to keep it real with the Ab-ster!
Anyways, Janey*Mac.com has tonz of adorable vinyl,
and if you are like me, and not finished with the phase yet,
you should check it out.
PS…if you are local…haha, not "loco" (you know who you are),
I have a great gal in town who can do vinyl too.